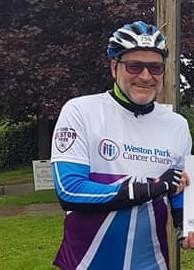 Meet Adam….Adam is Linear's Chairman and the other half of Team Linear embarking on the epic Grand Tour of Linear cycle ride all in aid of The Sheffield Children's Hospital Charity and Weston Park Cancer Charity, kicking off on May 12th.
Adam is Sheffield born and bred and cares passionately about The Sheffield Children's Hospital and Weston Park. Most people at Linear's Sheffield office have had family or friends who have had to use their services at some point in their lives, and Adam feels the charities do not get the credit they deserve. He is incredibly proud to be able to do this race to help raise as much money as possible and be able to put something back into the local community.
And how does he feel training is going? Adam has a passion for cycling, so in fact, he says it doesn't even feel like training, because he is enjoying it so much and it's going so well! Dean has been masterminding their training routes, and they have had the pleasure of cycling in some of the most beautiful parts of South Yorkshire, North Nottinghamshire and North Yorkshire – they even cycled part of the Tour de Yorkshire route at the weekend.
Good luck Team Linear!
To donate, please visit Team Linear's Justgiving page
https://www.justgiving.com/companyteams/the-great-linear-cycle
Donating is quick, safe and easy and every pound really counts.