The data used to inform this article has been taken from Linear Recruitment's internal salary data covering April 2018 to March 2019, analysing 35,000 salary data points on candidates we have placed in permanent and temporary roles, and is not indicative of the wider industry, nor future roles through Linear Recruitment.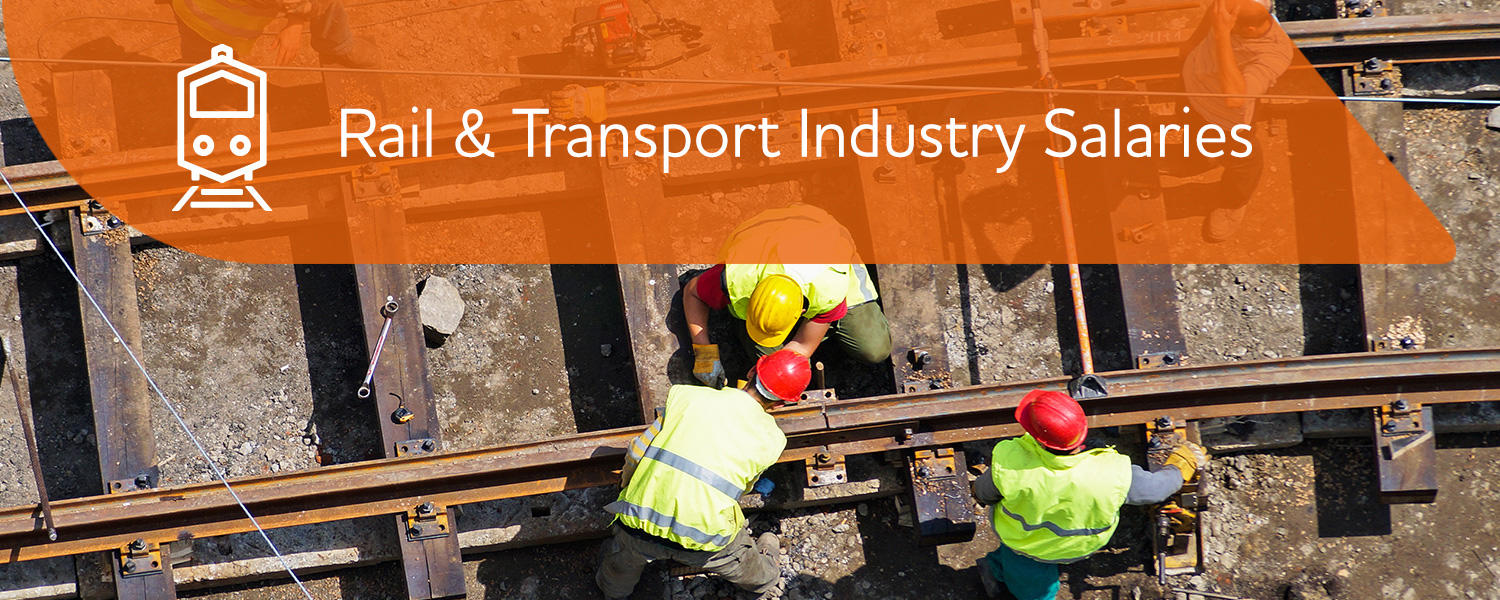 The rail industry in the UK started quickly in 2019, with many contractors rushing to finish projects. However, with the uncertainty of Brexit still looming over the UK and the UK rail industry slowing down in comparison to the beginning of the year, the worry with the industry is loss of skilled and high-quality candidates.
With that being said, the rail and transport industry is in the midst of a period of substantial growth, with a projected £48 billion set to be spent across the next five years so we can expect more projects becoming available.
Using our first internal salary report and data that is publicly available, we have pulled together a guide to the rail industry and what you can expect to earn.
What is the Average Salary in the Rail and Transport Industry in 2019?
The average rail salary in the UK in 2019 is £45,472 per annum and the average hourly rate is £12.27.
Salaries paid annually range from £41,667 for a Construction Manager to £66,750 for a Project Director. There is a smaller variation between hourly rates in hourly PAYE rates, with the lowest being £11.00 for a Banksman, to the highest, £12.69 for Labourers.
Comparing day-rate vs hourly-rate for the Rail & Transport industry
In this industry, there are a lot of workers who are contracted to hourly-rates or day-rates, as opposed to salaries or hourly PAYE.
While analysing our own data, we found that the average UK day-rate in the rail industry is £318. This varies a lot, from £100 per day for Planners, to £690 per day for Construction Managers.
For the hourly rate, the average in the UK is £16.05 per hour. This ranges from £13.16 per hour for a Traffic marshal, to £22.00 per hour for Supervisors.
Our data for non-PAYE hourly rates is more extensive and includes specific roles such as signallers, who receive £17.00 per hour.
When looking at hourly and day rates, it is important to consider that these will often differ due to factors, this could be from company-to-company or the current state of the industry.
It is important to note that these figures do not take bonuses or benefits, such as a travel allowance, into account
Average Salary per City:
It is common for salaries in most industries to depend on each location, this is also true for the rail industry, with variation from city to city.
| | | |
| --- | --- | --- |
| City | Average Salary | Salary Range |
| Birmingham | £61,089 | £47,500-£72,500 |
| Derby | £57,500 | £52,500-£57,500 |
| Bristol | £53,809 | £38,750-£57,500 |
| York | £47,500 | £42,500-£57,500 |
| Glasgow | £42,500 | £37,500-£56,078 |
| South West London | £42,500 | £37,500-£56,078 |
| South East London | £42,500 | £26,244-£45,000 |
| Manchester | £37,500 | £30,000-£47,500 |
8 Top Jobs Within Rail Industry
1. Project Management
Project Director with Linear Recruitment: £66,750

Salaries across the market:
Project Manager: £48,199 (Glassdoor)
Project Planner: £42,866 (Indeed)
Project Managers oversee the development and delivery of all projects. This includes monitoring project progress, identifying staff training needs, updating documentation and ensuring that all projects are compliant with industry regulations.
2. Construction Management
Construction Manager with Linear Recruitment: £41,667
Salaries across the market:
Network Rail Construction Manager: £37,932 (Indeed)

In the rail industry, Construction Managers are responsible for the organisation of railway sites, this heavily involves ensuring that the site matches the Health & Safety guidelines. Additionally, they will manage the staff that are based on this site.
3. Rail Engineering
Average day-rate with Linear Recruitment: £298 per day
Salaries across the market:
Rail Engineer: £47,000 (TotalJobs)
Graduate Engineer: £28,236 (Glassdoor)
Rail Maintenance Engineer: £44,473 (Indeed)
Rail Engineers typically have varied, multi-faceted roles as it encompasses a range of different types of engineering. Responsibilities often include building new engines, repairing or replacing parts and carrying out maintenance checks. There ia also admin work involved, as railway engineers are often expected to complete reports and keep records of maintenance.
4. Trackman
Average PAYE hourly wage with Linear Recruitment: £12.30 per hour
Salaries across the market:
Trackman: £26,566 (Glassdoor)
The role of a Trackman is to perform maintenance and consutrction work specifically on railroad tracks, bridges and right-of-way. This is a hands-on role and will involve everything from changing railroad ties, to basic maintenance on machinery used.
5. Quantity Surveyor
Average day-rate with Linear Recruitment: £300 per day
Salaries across the market:
Quantity Surveyor: £37,000 (Glassdoor)
To ensure a project is completed within its budgets, Quantity Surveyors manage all costs across any rail project. They will be heavily involved with a project, from start to finish, forecasting the costs required to complete the task - as well as sourcing materials, valuing the work completed on site, and fulfil the appropriate documentation.
6. Railway Signaller
Non-PAYE hourly rate with Linear Recruitment: £17 per hour
Salaries across the market:
Signal Design Engineer: £33,599 (Glassdoor)
Signaller: £42,466 (Glassdoor)
The role of a Signaller is crucial as they ensure that trains run safely and on time. Day-to-day, a signaller will be expected to operate controls, signals and track trains with computer systems to ensure everything is running smoothly. This job involves a lot of communication, with train drivers and other rail workers.
7. Contracts Manager
Average day-rate with Linear Recruitment: £300 per day
Salaries across the market:
Contracts Manager: £46,000 (Glassdoor)

Contracts Managers are responsible for ensuring health, safety, environmental and quality compliance. They are also in charge of financial monitoring and control of contracts.