GO TEAM LINEAR!
They're at it again….Linear Recruitment's two finest cyclists are dusting off their velocipedes and limbering up to embark on a huge 405.75 mile 'Grand Tour of Linear' across the country all in aid of two fantastic charities; Weston Park Cancer Charity and Sheffield Children's Hospital Charity.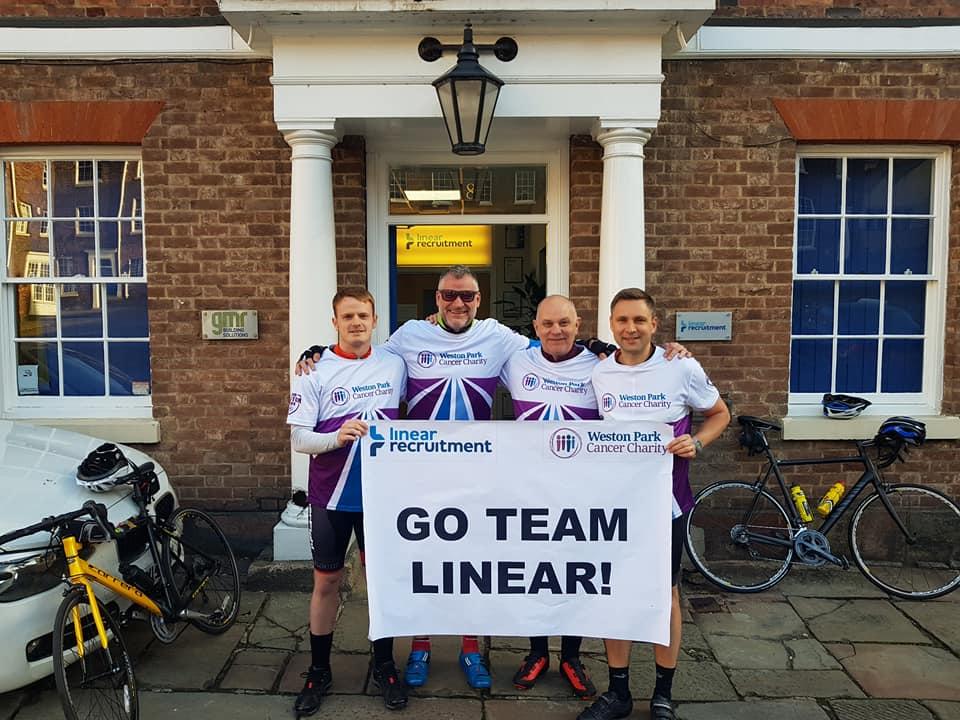 Having been part of a Linear team last year who previously raised over £2500 with a 70 mile cycle from Sheffield to Cleethorpes, Linear's Adam Turner and Dean Plumb are this year aiming to go bigger and better and raise over a whopping £3000.

On Sunday 12th May the dynamic duo will push-off from Linear Newcastle, meandering down the country via Linear Leeds, Sheffield and Manchester, arriving at Linear London five days later:

Day 1 – Linear Newcastle – Thirsk (64m)
Day 2 - Thirsk – Linear Leeds (43.4m) – Linear Sheffield (38.6m)
Day 3 – Linear Sheffield – Linear Manchester (44.43m) – Stoke (41.98m)
Day 4 - Stoke – Newbold on Avon (75.91m)
Day 5 - Newbold on Avon – Dunstable (56.3m) – Linear London (41.13m)
That's a staggering 405.75 miles!
Adam and Dean are doing all of this for two Sheffield charities close to a lot of Linear staff's hearts.
Weston Park Cancer Charity cares for thousands of patients across South Yorkshire, North Derbyshire and North Nottinghamshire, and is the region's only specialist cancer hospital, helping to improve the lives of those living with cancer.

Sheffield Children's Hospital is one of the top children's hospitals for paediatric care, treating children and young people with every condition imaginable.
To donate please visit Linear's Justgiving page https://www.justgiving.com/companyteams/the-great-linear-cycle.
Please do give what you can. Every pound counts and helps these wonderful charities make a difference every day.

Over the coming weeks, we'll be sharing updates - you can also follow the progress of the team during training by downloading the Strava app and searching Linear Recruitment.
And top marks to anyone willing to join the team for a leg or two!