Q& A with Gareth Tomkins, Linear Recruitment's Managing Director
Back to All News
As Linear Recruitment celebrates being in business for 20 years, we take the time to learn more about Gareth Tomkins, Linear Recruitment's Managing Director, and how he is driving the business forward.
It has been almost 15 years since Gareth Tomkins joined Linear Recruitment, starting his time with the Company in the role of Company Accountant, before subsequently becoming Financial Director in November 2008 and then stepping up to Managing Director in January 2019.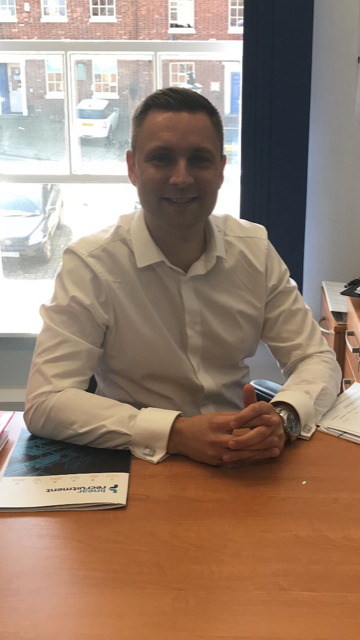 Tell us a bit about yourself Gareth
I was born and have lived in Sheffield all my life. I love the city and could never imagine living anywhere else. I am married with two young boys who keep me busy, I love my football although my team is not one to shout about this year, and I enjoy keeping fit. When I get the time at a weekend I enjoy cycling and like to get out on the road or mountain bike.
What did you work-wise do before you joined Linear?
My first full time job was at 18. I'd finished my A Levels and decided university wasn't for me. Before I'd even taken my exams I had a job lined up as a Junior Accountant at a small practice in Sheffield called Wells Richardson. I learnt so much working in a small practice and working for a range of companies from small sole traders to large company audits; the variety gave me so much experience.
After four years my then manager left to make the move into Industry. After a few months he talked me into joining him and I moved to United Carpets - I didn't want to leave Wells Richardson but I had plans to move into Industry at some point in my career so I took the plunge. After a couple of years my manager left and I was promoted into his role, and it was at United Carpets where I qualified as an Accountant in June 2005. Later that year I then decided to move on. I wasn't in Sheffield and I felt I needed to move in order to accelerate my career, and that's when I joined Linear in May 2006.
Why the recruitment industry?
I didn't really join Linear in order to get into the Recruitment Industry, I was open to most Industries but I wanted a company that had a clear vision and values that were aligned with mine. Ideally I was looking for an SME that was growing and one that I could really add value to and help with that growth. Linear was the first interview I had and the company had everything I was looking for. It had a strong financial footing and an ambitious owner in Adam Turner, with a clear plan for growth. The company was only four years old but had done amazingly well in those four years so the fit was perfect. I would however add that due to the rapid growth and the fact that there was no company Accountant in place, the accounts department was in a bit of a mess! It probably took a good twelve months to get the correct systems, processors and team in place before we were in a good place.
What makes Linear different?
Although the company grew into a £32m turnover business and opened four new offices along the way there was and still is a family business feel about the place. Adam Turner has always been hands on and we have always worked to our company values and looked after our fantastic employees. We have always had an environment that promotes success and one where our team feels empowered and is empowered, and one where we are continuously creating opportunities. Many of the Directors and staff have been with the business for a very long time; this helps create the family feel, sets us apart from other agencies and has helped build very strong and long-standing relationships with clients.
What are your values as a company leader?
It really is about keeping it simple. I believe in hard work and trust when I look at my values. I have always believed that leading by example is the way to go and I have always worked extremely hard throughout my career. I think that if you empower people and trust them you will reap the rewards.
What challenges does Linear face on a day to day basis?
Linear faces many challenges on a day to day basis and they are constantly changing. In our Industry there is an abundance of competition and it comes in all forms. This can be the big corporates such as Hays and Randstad or a small one-man band working from their bedroom. We have positioned ourselves in between these two; we are very professional with a vast amount of experience and coverage but still provide a very personal service. To get the better of the competition we really have to be on top of our game in order to get in there first and provide the best service possible for clients.
Constantly changing legislation is also a challenge and keeping on top of those changes. We have had so many over the years, and of course we have the IR35 off payroll working changes to deal with. We do however turn these challenges into opportunities to offer our clients an enhanced service and take away the stress of dealing with the red tape.
What has been your biggest challenge and how did you overcome it?
I think moving from the Financial Controller role to Managing Director was a huge challenge and one I am still working on two years in. For the first time in my career I am involved in driving sales and working with sales activity KPI's rather than the financial KPI's that I am used to. To make the transition even more challenging we haven't brought in a new FD. As such I am still running the finance team on a day to day business, but thankfully have a fantastic team around me and they help massively with this.
What are your greatest strengths?
I really do believe that it is genuine hard work that has got me to my position today. I would also say that I am pretty level-headed and due to the challenges that we have faced over the years I am well equipped to handle adversity when it hits you unexpectedly.
What's your greatest achievement in your career?
My biggest achievement was passing my ACCA Qualifications and becoming a qualified accountant. I was working in the day and attending university at night so it was a real hard slog.
How is the world of recruitment performing given what we have experienced in the last year and what do you predict going forward?
The world of recruitment in the last year has obviously been very tough. With unemployment surpassing 5% and many companies putting a freeze on their recruitment plans the industry, as with most industries, took a hit. The recovery will be sector-specific and thankfully for us the construction/engineering and industrial markets that we work in have a big part to play in the recovery of the UK economy. We have had a fantastic start to the year and I can only see it getting busier as confidence returns and new projects start. The biggest challenge we are set to face in the industry is a candidate and skills shortage, however we have a vast database of candidates to call on who we have long-standing relationships with.
I do believe the temporary labour market will also have a big part to play in the recovery of the jobs market. Companies may be reluctant to take workers on a permanent basis in case there are further lockdowns and so contract workers will pave the way forward in order for clients to start to grow again.
How have things changed regarding sourcing candidates and ensuring that they are right for your Clients' businesses?
Since we opened our doors in 2001 there have been fundamental changes in the identification, sourcing and qualification of candidates. The proliferation of internet Job Boards and social media (especially LinkedIn) has meant as a recruitment business we have a lot more immediate information and a greater access to candidates at our fingertips than ever before.
With this comes new issues as we now spend a lot more time 'qualifying' candidates to ensure not only a candidate's suitability to the position in hand, but also their motivation to gain new employment. We will always endeavour to meet our candidates face to face before they meet a prospective client, but we are also embracing video interviewing to ensure a good fit with our clients' requirements.
In addition to sourcing and qualifying, there is a lot more emphasis on compliance, especially within the temporary market. Linear Recruitment has a full Compliance Department that makes sure all our candidates have all the necessary documentation to be able to carry out their designated position, ensuring our Clients are fully protected.
What would you say to someone who hasn't used a recruitment agency before? Why should they?
Recruiting the right staff is fundamental in any company; if you get it wrong the costs can run into thousands. A recruitment agency will help you with that process and give you a much better chance of making the correct decision. Our consultants are experts in this field and work hard to find the correct fit for clients and candidates whilst making the process much smoother. There might be a fee to pay for the service but there is a very good chance that it will save you money in the long term. As I mentioned before the temporary recruitment market is going to have a big part to play as we move away from the pandemic. If companies are nervous about taking on new staff a contract worker can give you that confidence to start growing again. Additionally a recruitment agency like ours takes away all the searching through CV's, the compliance and the paperwork so clients can concentrate on doing what they do best.
How are you planning on marking Linear's achievement of 20 years in business?
It really is an amazing achievement and I am so proud of it! We are hoping to have a big summer bash to celebrate but obviously this depends on restrictions. There are a number of Linear employees including myself running in the Sheffield half marathon as part of a Team Challenge, where we are raising money for the Sheffield Children's Hospital – given it's a special year for us, we want to smash our fundraising target and raise as much as we possibly can for a charity that is close to a lot of Linear employees' hearts.
What are you most looking forward to post-pandemic?
A pint in the pub and of course seeing friends and family. On a work perspective I am really looking forward to getting back to normality. I cannot wait to start visiting our offices again and seeing all our staff on a more regular basis.